When weight loss isn't the point of losing weight.
July 24, 2016
Pumpkin, mushroom, ricotta toasted spelt flatbreads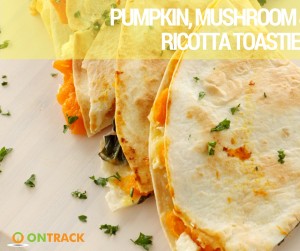 Crunchy on the outside, warm and cheesy on the inside. The goodness of spelt flour means you get more nutritional bang for your buck- higher in niacin (for better energy, circulation, and cholesterol), and minerals such as copper, zinc, magnesium, and iron.
Nutrition: per serve, recipe serves four.
Cal     KJ        Carbs    Sugar    Fat     Sat fat      Protein     Fibre
225    941     22.7       4.6       7.75     5.1          10.2           4.1
Ingredients:
 Flat bread
1 cup spelt flour + spare flour for dusting.
1/4 teaspoons salt
1/4 teaspoon baking soda
1/3 cup hot (not boiling) water
1/2 tablespoon olive oil
Spray oil
Filling
1 cup (200g) diced butternut pumpkin
1 cup chopped mushrooms
½ cup low fat ricotta cheese
2 tablespoons grated parmesan cheese
¼ tsp nutmeg
1/8 cup freshly chopped oregano
Method:
1: Lightly oil a non-stick fry pan with spray olive oil and on medium heat cook until soft the pumpkin, mushrooms, nutmeg, and oregano. Mash together roughly, then put aside.
2: In a mixing bowl, combine the flour, salt, and baking soda.
3: Pour in the hot water and olive oil and mix until just combined.
4: Knead the dough until all the flour mixture has combined with the liquids, this should take just a few minutes. If you feel the dough is too wet or sticky, add a few more tablespoons of spelt flour and work this into the dough.
5: Heat a non-stick flat frying pan on medium heat.
6: Pull away a golf ball sized piece of dough, and use flour to sprinkle on the dough, benchtop, and rolling pin to prevent sticking. Roll out the dough into a circular shape roughly the size of your pan.
7: Spray your pan lightly with olive oil spray, and then after placing your rolled out dough in the pan, spray the top of the dough. Both sides on the dough will be lightly oiled now. Cook for 30 seconds to a minute each side.
8: Heat up and lightly flour a flat sandwich press.
9: Add pumpkin mash along the midline of the flatbreads, sprinkle parmesan cheese and ricotta evenly between them. Fold them over, and cut in half.
10: Toast for a few minutes until flatbreads are just golden. Optional- serve with parsley.