Meet the friendly expert team you will be working with at our OnTrack Weightloss Retreats!
Experienced, positive, encouraging, and understanding, we have the knowledge and skills to help you reach your goals. Our highly qualified team of exercise and fitness professionals, nutritionists, and mindset counsellors offer you the real life strategies to not just lose weight, but keep it off long term, and enjoy your life while doing it!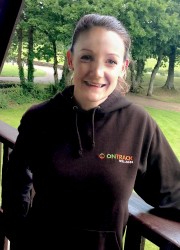 Jenna Barnard
Jenna is the Managing Director of both our UK and Australian Retreats. Our original Retreat Manager in Devon now residing in Australia.
Jenna's passion lies with helping people believe in their true potential and the quality of life that comes with living an active healthy lifestyle. She believes to be the best version of yourself you need to be happy from the inside out and knows there is a lot more to weight gain than eating too much and not exercising enough.
Jenna enjoys helping so many different people with very different journeys and very different hurdles to overcome, all to the same goal. A better, happier, healthier self! She has over ten years experience within the health and fitness industry and has been specialising in weight loss for many years.
Qualifications and Experience:
Level 3 Personal Trainer
Level 3 Nutrition and Weight Management
Level 2 Fitness Instructor
Kettlebell instructor
Spinning instructor
Crossfit level 1 coach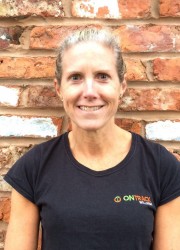 Ingrid Reynolds
Ingrid is our Retreat Manager and energiser bunny!
Ingrid is also the most fabulous aqua instructor (you've not experienced aqua aerobics until you've done a class with Ingrid) and has been a fitness instructor for twenty years, her enthusiasm for all things sporty has kept her going (despite her knees wanting to retire). Originally from a swimming background where she represented Jamaica and Scotland (weirdly) Ingrid moved onto dry land and has had regional and national representation in several sports.
She has also represented the South West as a contender on the TV show, Gladiators (although she would like to say that it was not her finest hour but her hair looked nice!).
Ingrid's aim is to encourage people to get the most from their sessions with her whilst not losing sight of the fun to be had along the way"
Qualifications and Experience:
RSA Exercise to Music Award
CYQ Spin Instructor Certificate
Speedo Aqua jog Instructor Certificate
First Aid at Work
Boxercise Instructor Certificate
Aus-Swim Swimming Instructor
RLSS National Pool Lifeguard Award
SLSA National Surf Lifeguard Award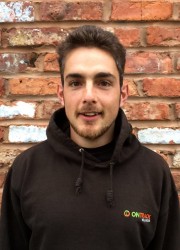 Dustin Sanders 
Having had his own struggle with being overweight and unhappy in the past, Dustin finds being able to use his own personal experience to help others incredibly rewarding.
Dustin loves being part of a team that helps our clients with their personal plight and loves seeing the positive difference in them as they develop during the week.
Dustin's positivity  and enthusiasm is contagious. He is our energiser bunny and self proclaimed geek. Dustin loves to have fun whether it's in the gym or in life. You can't help but have fun with him
Qualifications and Experience:
Level 3 Personal Trainer
Level 2 Gym instructor
Nutrition and Weight Management Cert
Cancer Rehab Cert
Kettlebell Instructor Cert and viper trained.
First Aid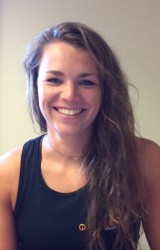 Tory Temple-Murray
Tory has a huge passion for health and fitness, understanding the biomechanics of the body and seeing how small consistent changes in nutrition and movement can give us great advantages in all aspects of our life.
Tory's background is in Squash where she has competed internationally for the last 13 years. Tory loves the competitive side of playing sport and is used to experiencing the mental and physical battles/setbacks, then learning to adapt to maintain a healthy fulfilling lifestyle.
Tory loves the buzz of training and pushing her body and mind to the limit. (Don't worry, she won't be pushing you over your limit, she know's she's a little crazy and not everyone else is)
Tory's daily aim is to inspire others so they can reap the benefits of exercise and a healthy lifestyle.
Tory says "the diversity that health and fitness can offer means everyone can find something they enjoy improving their lives for the better. Through OnTrack, I aim to help people find their "something"
Qualification and experience:
Level 3 Personal Trainer
Level 2 Squash Coach
KettleBell Trainer Certificate
Circuit Trainer Certificate
Core Trainer Certificate
Functional Trainer Certificate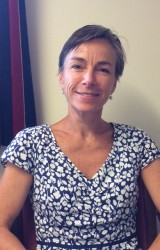 Tamara Bennett
Tamara has lived in various countries around the world and has enjoyed a life long interest in nutrition and health. She is registered with the Association for Nutrition and is a responsible, dedicated and conscientious nutritionist; one who understands that food is one of life's pleasures (which she keeps in mind when devising diets and strategies for individual clients).
Her nutritional sessions at OnTrack are dynamic, engaging and interactive – leaving attendees feeling better informed and confident to apply what they have learnt.
Tamara bases all her advice on scientific and clinical evidence but this does not mean that her advice is 'standardised'. She believes that there is no such thing as a 'one size fits all' in nutrition. She insists that we are all biochemically unique and our likes and dislikes are as varied as we are individual.
Her key areas of interest are the Microbiome, IBS, weight loss, Cholesterol and Candidiasis, and although she is not a Sports Nutritionist she has considerable experience in advising on nutrition for training and performance in sport – including an Olympic swimmer, sports academies and swim teams.
Tamara is a busy mum of 3 children, when not devoting her time to their dietary needs, she is usually ferrying them around to their various sports or athletics training/matches/competitions.  Occasionally managing to do some running and gym sessions herself; she also loves the outdoors and the simple things in life like spending time with her 'slightly bonkers' family and good friends. She loves reading, walking, cycling and picnics on the beach (but only in the Summer of course!).
Qualifications and Experience:
BSc (hons) and MSc Nutrition KCL
Professional registration: Association of Nutrition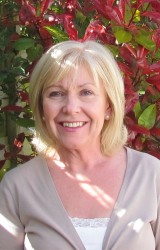 Linda Atkinson
Linda am a humanistic psychotherapist offering a holistic therapeutic approach that dovetails exceptionally well with the OnTrack program. She believes that to achieve a really healthy general wellbeing we need a healthy integration between our mind, body, spirit and emotions.
She specialises in relationships, that which we have with self/others and our environment, and this enables her to help our OnTrack guests explore their relationship with food helping them to identify and clarify 'what food means to them'. Once gained, these new insights increase self awareness and offer a wonderful opportunity to make the necessary changes needed to improve your general well being.
Qualifications and Experience:
CPCAB Level 2 Certificate in Counselling Studies
CPCAB Level 3 Certificate in Counselling Studies
CPCAB Level 4 Diploma in Therapeutic Counselling
CPCAB Level 5 Diploma in Psycho therapeutic counselling
A foundation course Certificate in Bereavement care
4 yrs experience working with common mental health problems
5 yrs experience working with complex mental health issues
4 yrs experience working with loss and bereavement
3 yrs experience in private practice.