What Is The OnTrack Difference?
Why we are the industry leading residential weight loss specialists.
Lets explore the difference between OnTrack Weight Loss Retreats and a residential bootcamp.
Lose weight in a quality and supportive environment that is run by the UKs leading weight loss specialists.
We are the experts in weight loss and lifestyle change.
This is the OnTrack Difference.
At OnTrack retreats we pride ourselves on being the highest quality weight loss retreat in the UK in every aspect.
Our 4 star Hilton resort, beautiful rooms, life changing program, Hilton chef cooked meals, industry leading wellness team, attention to detail and personal care set us apart from every other residential retreat in the UK.
When it comes to losing weight and improving your health and wellness, there are many options available to you. Unfortunately many of them are low quality and not operated by industry leading professionals.
The two most popular options are a fitness bootcamp and an industry leading weight loss retreat such as us here at OnTrack Retreats.
While both options can help you achieve your weight loss and health goals, there are some very important key differences between the two that make OnTrack Retreats the better option for you if you are looking to lose weight for the long term in a positive and professional environment.
So let us inform you on why a quality weight loss retreat like OnTrack Retreats is a much more professional option than a fitness bootcamp for weight loss and long term health success.
When choosing where to take part in your weight loss journey, quality matters. Our program changes lives.
This Is The OnTrack Difference.
Personalized Attention and Support
At OnTrack Retreats, you will receive personalized attention and support from our leading team of experts.
Our team includes a nutritionist, wellbeing specialist, exercise professionals and the leading retreat team in the industry.
Our industry leading professionals will work with you in detail to make sure that your weight loss program experience is tailored to your specific needs and goals.
In contrast, a fitness bootcamp often takes a one-size-fits-all approach, which may not be effective for everyone.
At a bootcamp you are treated as a number and not as an individual. A fitness bootcamp is not a supportive environment and is based around shouting as motivation.
At OnTrack Retreats we offer a professional and supportive environment that treats you as an individual and with total respect.
No one likes to be shouted at to achieve their goals and it is counterproductive to take this approach.
A professional, respectful, supporting and caring approach is how long term life style changes are achieved.
We will also make sure that you are staying on track after you leave the retreat. Every guest will have the option to take part in 1 months after retreat support with their own OnTrack coach. This includes weekly consultation calls.
This is the OnTrack difference.
Amazing tasting meals designed by industry leading nutritionists and prepared by Hilton quality chefs.
This Is The OnTrack Difference.
Healthy, Nutritionist Planned Gourmet Meals Cooked By Hilton Chefs.
At OnTrack Retreats you will enjoy healthy, well balanced, gourmet meals that are prepared by a team of expert Hilton chefs.
These meals are designed by our OnTrack nutritionists and are both delicious and nutritious.
Our meals are made with locally sourced, organic ingredients.
As our meals are all prepared by Hilton quality chefs you can be assured of the highest quality and cleanliness of the preparation of all meals.
In contrast, a fitness bootcamp often provides basic low quality meals that may not be appetizing or satisfying.
To keep costs low the chefs are often untrained and do not have the skills to prepare high quality meals.
You will often find that the person that is cooking your meals is actually a personal trainer or camp leader who has not studied being a chef.
Bootcamps often do not have their menus designed by an industry leading nutritionist and you are consuming meals that are not nutritionally balanced or healthy.
A big issue with bootcamps is also the low quality of ingredients that they use. Often low cost and processed ingredients are used to keep costs down and this means that you are not consuming quality meals.
At OnTrack Retreats we only use Hilton quality chefs and the best produce and this is the OnTrack difference.
World class facilities designed to take care our your health and wellbeing.
This Is The OnTrack Difference.
Relaxation, Recovery and Stress Reduction
At OnTrack Retreats, you will have access to a range of spa services and relaxation activities that can help reduce stress and improve your overall well-being.
This includes massages, yoga classes, and meditation sessions, which can be just as important for weight loss as diet and exercise.
OnTrack Retreats also invite you to enjoy our swimming pool, sauna, steam room and jacuzzi at any time.
This is perfect for relaxation and recovery from your daily exercise sessions and is great for your mental health.
In contrast, a fitness bootcamp is often focused solely on intense army style workouts, which can be stressful and exhausting.
With a bootcamp you will be in substandard accommodation with little to no quality facilities for you to make the most of your weight loss journey.
A bootcamp approach is designed to make you suffer so that you fall in line with what they want you to do.
They do not take in to account your overall health and wellness.
We care for your wellbeing and mental health here at OnTrack Retreats with the best health and wellness facilities in the industry and that is the OnTrack difference.
A beautiful country setting with the touch of Hilton quality.
This Is The OnTrack Difference.
A beautiful and relaxing Hilton Resort.
OnTrack Retreats is set in a beautiful, relaxing Hilton location and is a peaceful countryside retreat.
This type of setting will help to reduce stress and improve your mood, which can be essential for weight loss success.
We have a beautiful resort which is perfect for relaxing and enjoying your weight loss experience.
We are a Hilton Resort so all of the little quality touches are put in to place to ensure that you have the best possible experience.
In contrast, a military fitness bootcamp is often set in a more austere environment, such as shared house or low quality residential training facility, which is not as inspiring or uplifting.
These bootcamps are often unclean and do not have the standards or services of a Hilton resort like OnTrack Retreats.
Not only do we have the best weight loss team in the U.K but we also have a dedicated team of cleaners, receptionists, waiting staff and resort management to ensure that our retreat is spotless and that you are very well looked after.
This is the OnTrack difference.
Top quality accommodation which is 4 star Hilton standard.
This Is The OnTrack Difference.
4 star Hilton quality rooms with private en suite bathrooms.
At OnTrack Retreats we believe that it is vital that you have a comfortable and quality living space to feel at home at the end of your day.
All of our rooms are of a 4 star standards and include all of the quality furnishings and applicences that you would expect from a Hilton resort.
We offer spacious rooms with queen sized beds, sky television, free wifi, work desk, bathrobes and towels, shampoo and conditioners and all of the little luxuries you should expect from a top quality weight loss retreat.
Where a bootcamp differs is that they often claim to have luxury accommodation but the reality is that bootcamp accommodation is sub standard.
Often a bootcamp is run from a private house that is not star rated, has no dedicated house keeping team and the rooms are not what you would expect from a residential weight loss program.
Some bootcamps even have you sleeping in tents in their gardens and claim it to be luxury glamping!.
Bootcamps are not designed to look after your comfort and therefore there is little thought and care that goes in to their accommodation.
A weight loss retreat such as OnTrack Retreats is an official 4 star rated resort which is inspected and rated regularly.
We offer only the best accommodation to ensure that you have the best possible experience.
This is the OnTrack difference.
Join 1000's of Success Stories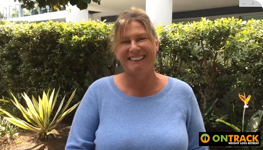 Brownyn
Brownyn lost weight and gained strength and mobility
back!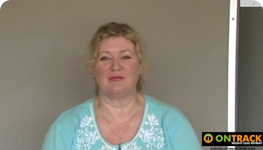 Libby
Libby gained a pip in her step and lost weight and cm around her waist!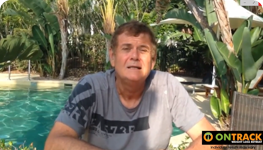 Will
Will feels 10 years younger and now loves to exercise!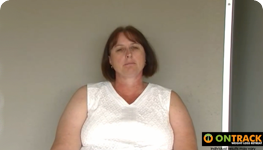 Kym
Kym lost weight and developed new healthy habits