Hydrotherapy workout
July 27, 2016
Drop your high blood pressure
August 8, 2016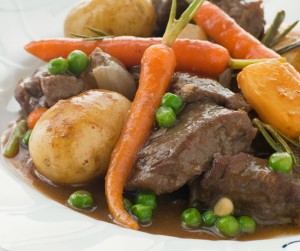 The kind of meal that feels like home. Nothing is more satisfying than a hearty lamb casserole with farm fresh veggies, tender meat, and traditional flavours.
Iron rich for great energy levels, and with the nutrients in orange/yellow vegetables being particularly protective against heart disease and certain cancers, you can be assured that not only does it taste great but it's healthy as well.
---
Serves 4
---
Cal    Carbs    Fat    Sat Fat    Protein    Fibre
509     58.6     14.6     5.1          39.9         15.3
---
Ingredients:

2 tablespoons plain flour
500g extra-lean lamb leg steaks cut into cubes
Rice Bran oil
2 brown onions, halved, sliced
6 garlic cloves, chopped
1 cup salt-reduced beef liquid stock 400g can reduced-salt or no-salt whole peeled tomatoes
250g butternut pumpkin, peeled, deseeded, cut into cubes
250g baby carrots
3 large rosemary sprigs
400g can chick peas, drained, rinsed
2 cups Green beans
250 g cauliflower
2 cups peas (frozen or fresh)
Sweet potato mash to serve
---
Method:

1: Preheat oven to 180°C. Place flour in a snap-lock bag. Add lamb and shake bag to coat. Spray a heavy-based casserole dish lightly with oil. Heat over medium-high heat. Add half the lamb. Cook, stirring, for 3 to 4 minutes or until browned. Remove to a plate. Repeat with oil and remaining lamb.
2: Spray pan lightly with oil. Add onion. Cook, stirring, for 3 to 4 minutes or until onion is tender. Add garlic and cook for 1 minute. Add stock, tomatoes, pumpkin, carrots and rosemary. Return lamb with juices to pan. Bring to the boil.
3. Cover and place in the oven. Cook for 30 to 40 minutes or until lamb is tender. Remove from oven. Stir in chickpeas beans, cauliflower and peas. Cover and return to oven. Cook for a further 5 to 10 minutes or until heated through.